Bacon, Avocado Keto Burger and "Fries"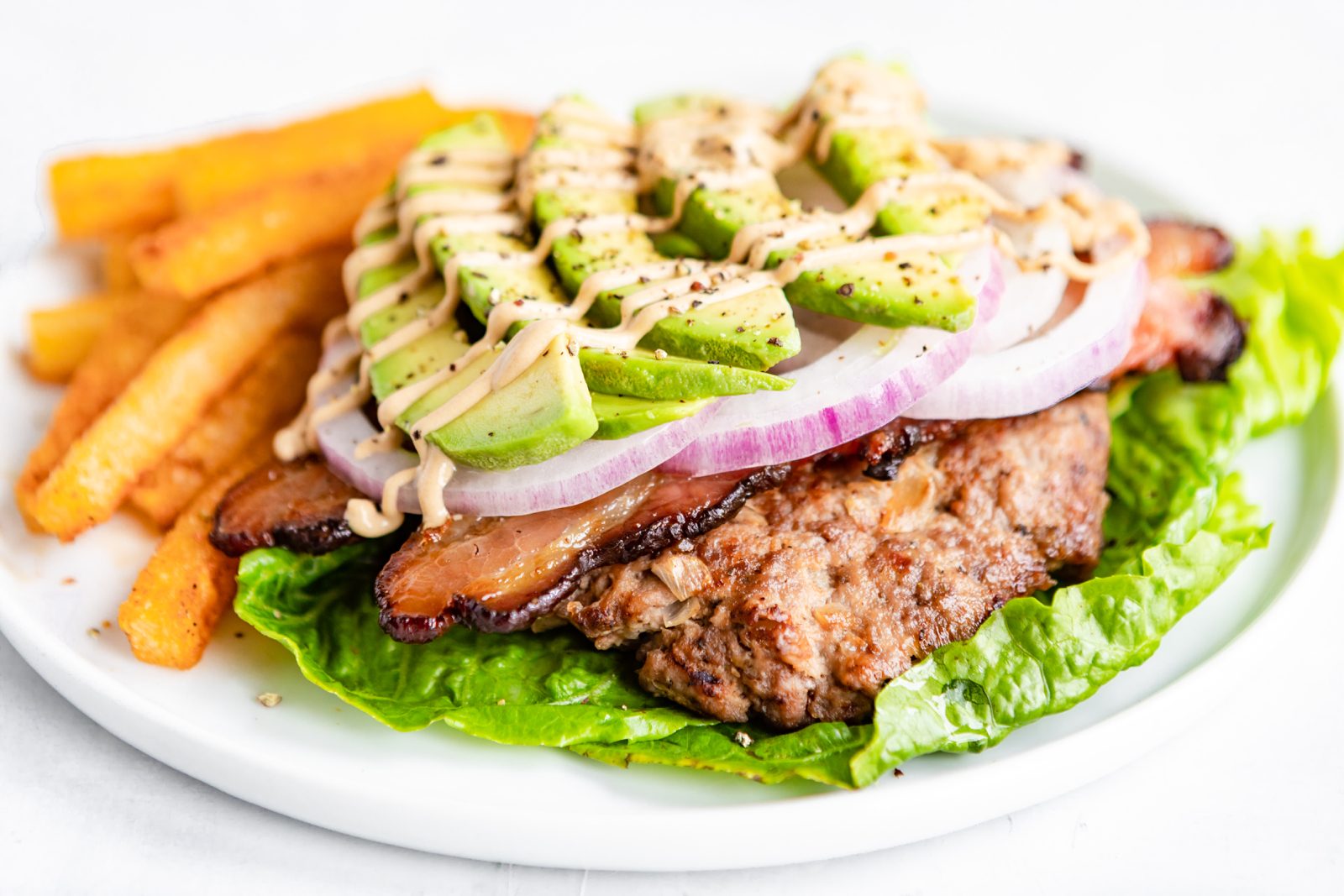 Recipe
For the burger
1/2 pound ground beef
1/2 pound ground pork
1 tablespoon SGF Organic MCT Oil
1 teaspoon Worcestershire sauce
1/2 onion, diced
2 clove garlic, minced
1 teaspoon salt
1/2 teaspoon black pepper, ground
8 slices center-cut bacon, cooked
1 avocado
6-12 leaves romaine lettuce
Slices of red onion
dijon Mustard or other condiments of your choice
For the "Fries"
1 small jicama
1 teaspoon salt
1/4 teaspoon garlic powder
1/4 teaspoon paprika
2 tablespoons SGF Organic MCT Oil
Nutrition Facts: per serving (1 burger with 1/4 fries): Fat 41g, Protein 29g, Carbohydrate 13g, Fiber 7g, Net Carbohydrate 6g
Instructions
To make the hamburger patties, combine the meat, MCT oil, Worcestershire, onion and garlic in a bowl.  Once it is mixed up, add in the seasonings and mix one more time to make sure the spices are evenly distributed in the mixture.  Form the meat into 4 patties. Heat up a pan or grill for the keto burgers and cook until desired doneness.
To make the keto fries, peel and slice the jicama into "French fry" type strips. Preheat the oven to 400F and line a baking sheet with foil. Set aside.  Heat a large pot of water, with 1/2 teaspoon of the salt. Once the water is boiling, add the jicama and cook until slightly tender, about 8 minutes.  Drain in a colander and put into a bowl with ice to stop the jicama from continuing to cook.
Once cool, dry off the jicama and place into a large clean bowl.  Drizzle the 2 tablespoons of MCT oil over the jicama and toss to evenly coat. Add the rest of the salt, paprika and garlic powder and toss the jicama keto fries so they are evenly coated.  Transfer the seasoned jicama to the prepared baking sheet and bake for about 30 minutes, rotating the pan halfway through. Remove from the oven and enjoy hot!
To assemble the burgers, place a couple of iceberg lettuce leaves down on a plate.  Top with the keto burger patty, bacon, 1/4 avocado, onion and mustard. Cover the top with another leaf or two of the romaine lettuce leaves, or eat open faced.
Product(s) used in this recipe