Simply GOODFATS™ Organic Coconut Oil
14 oz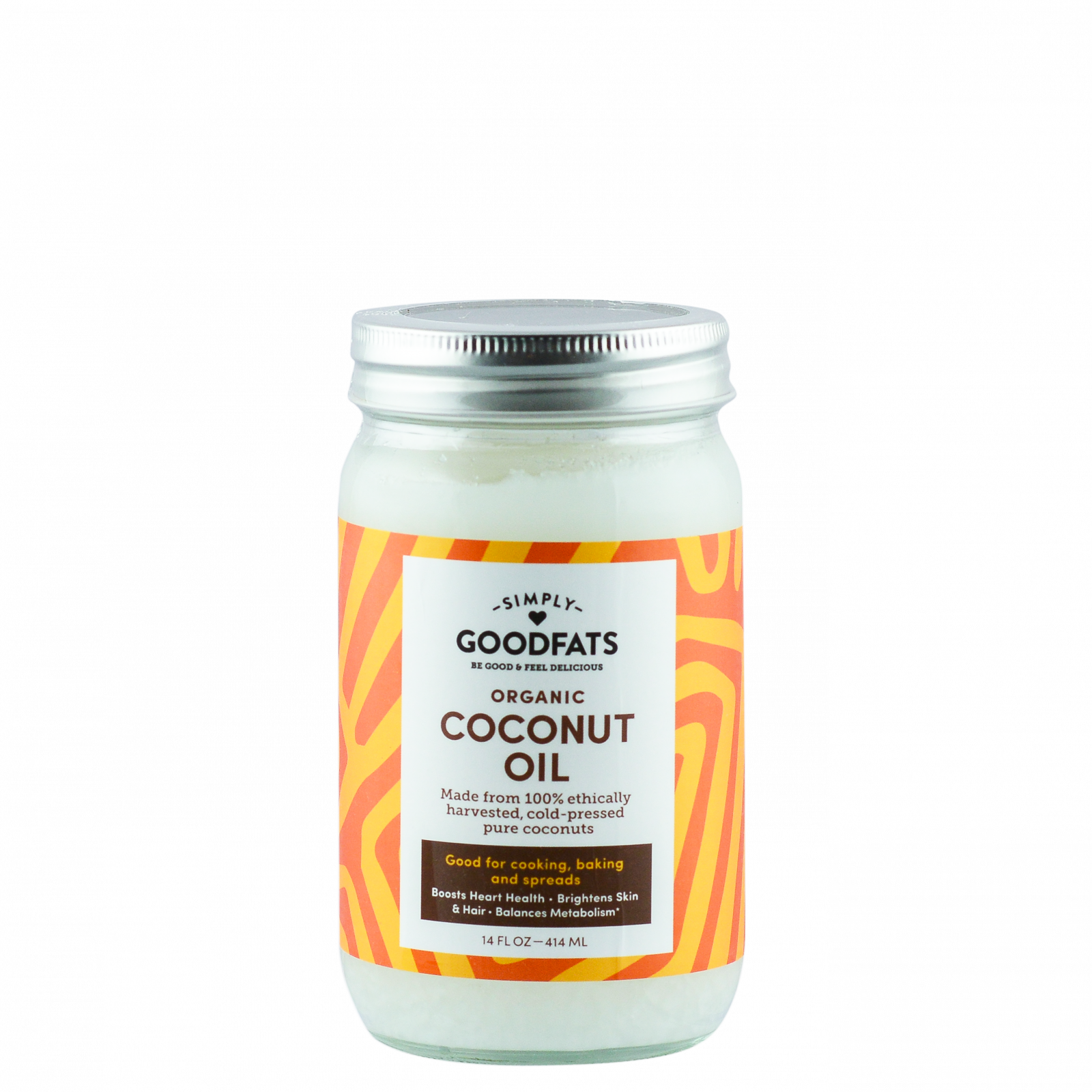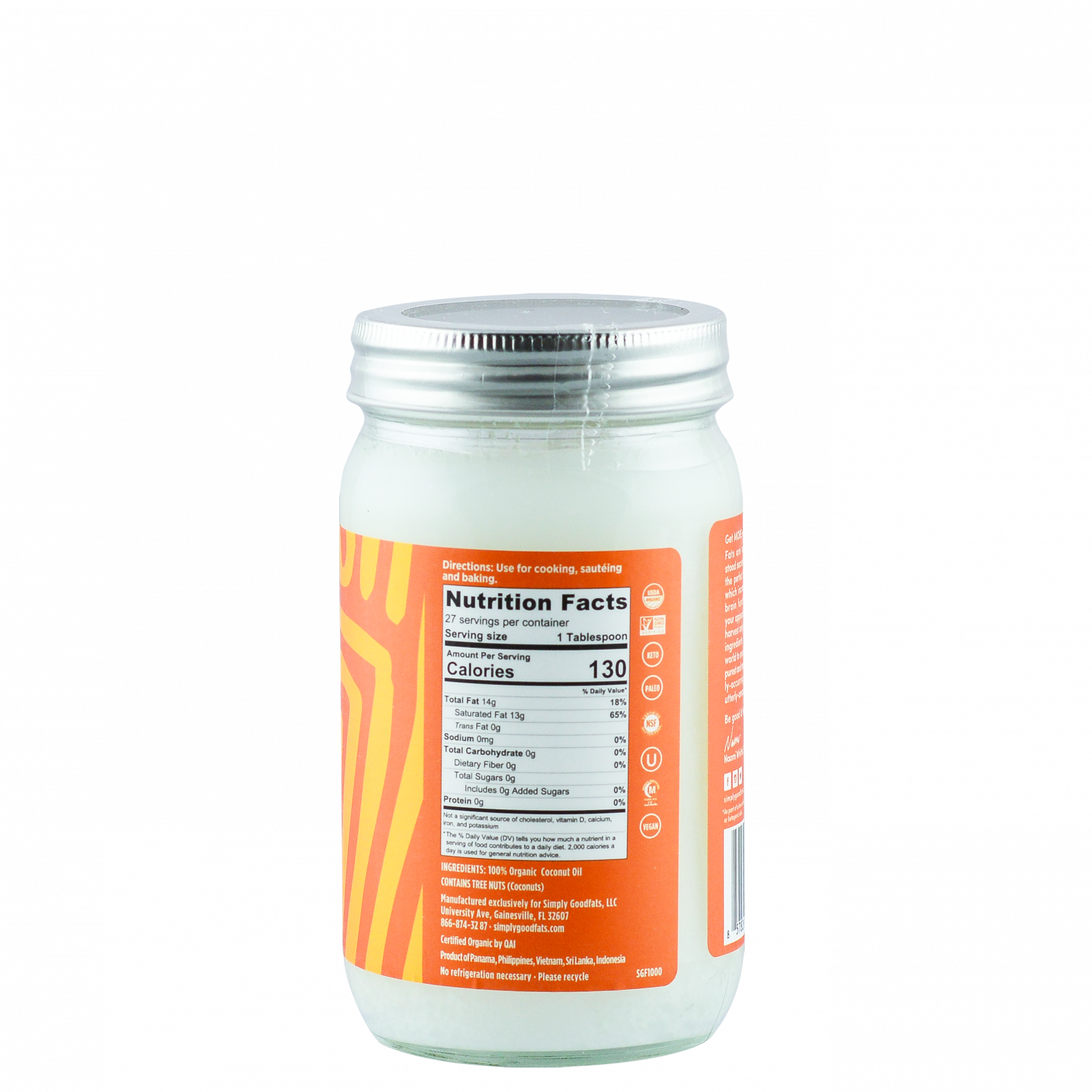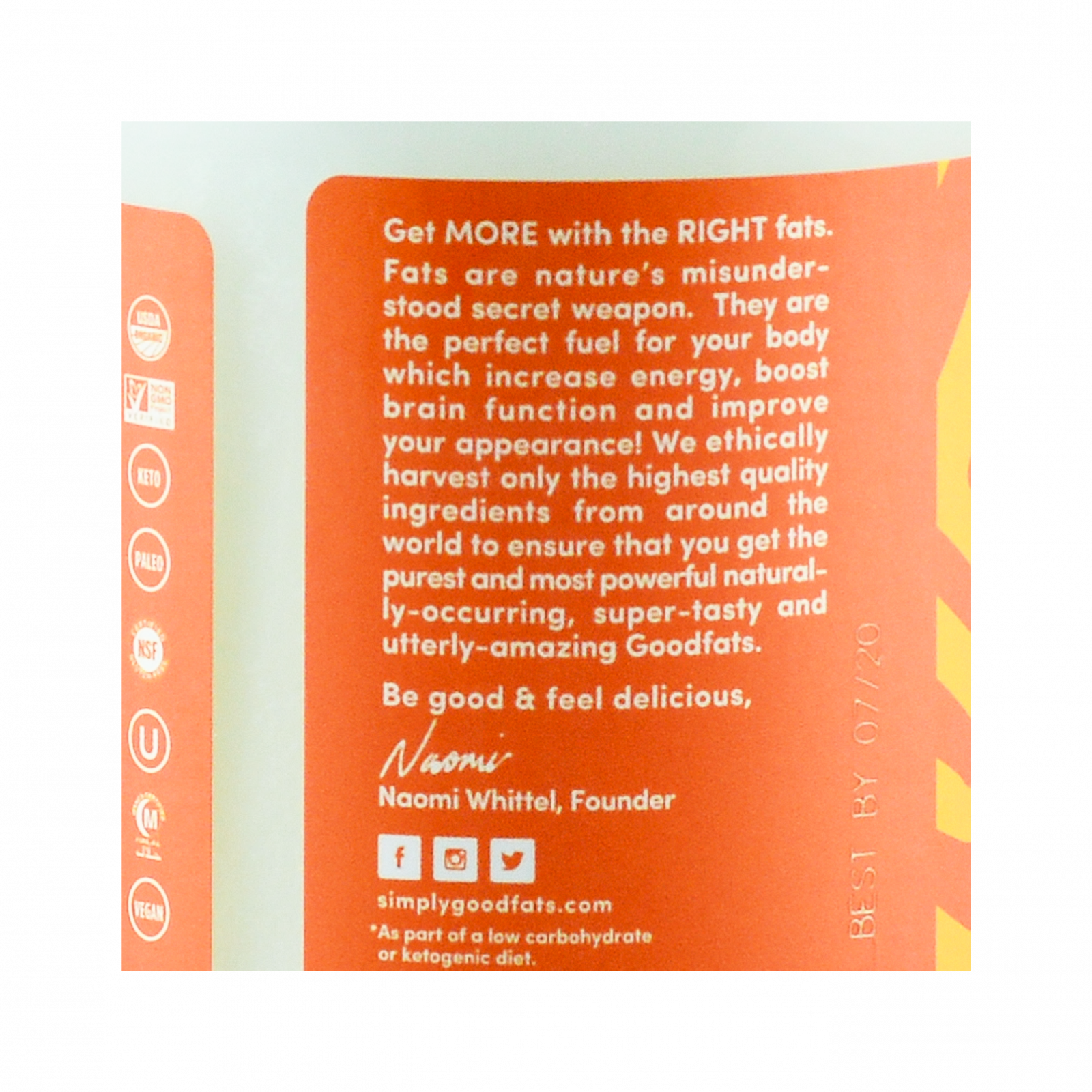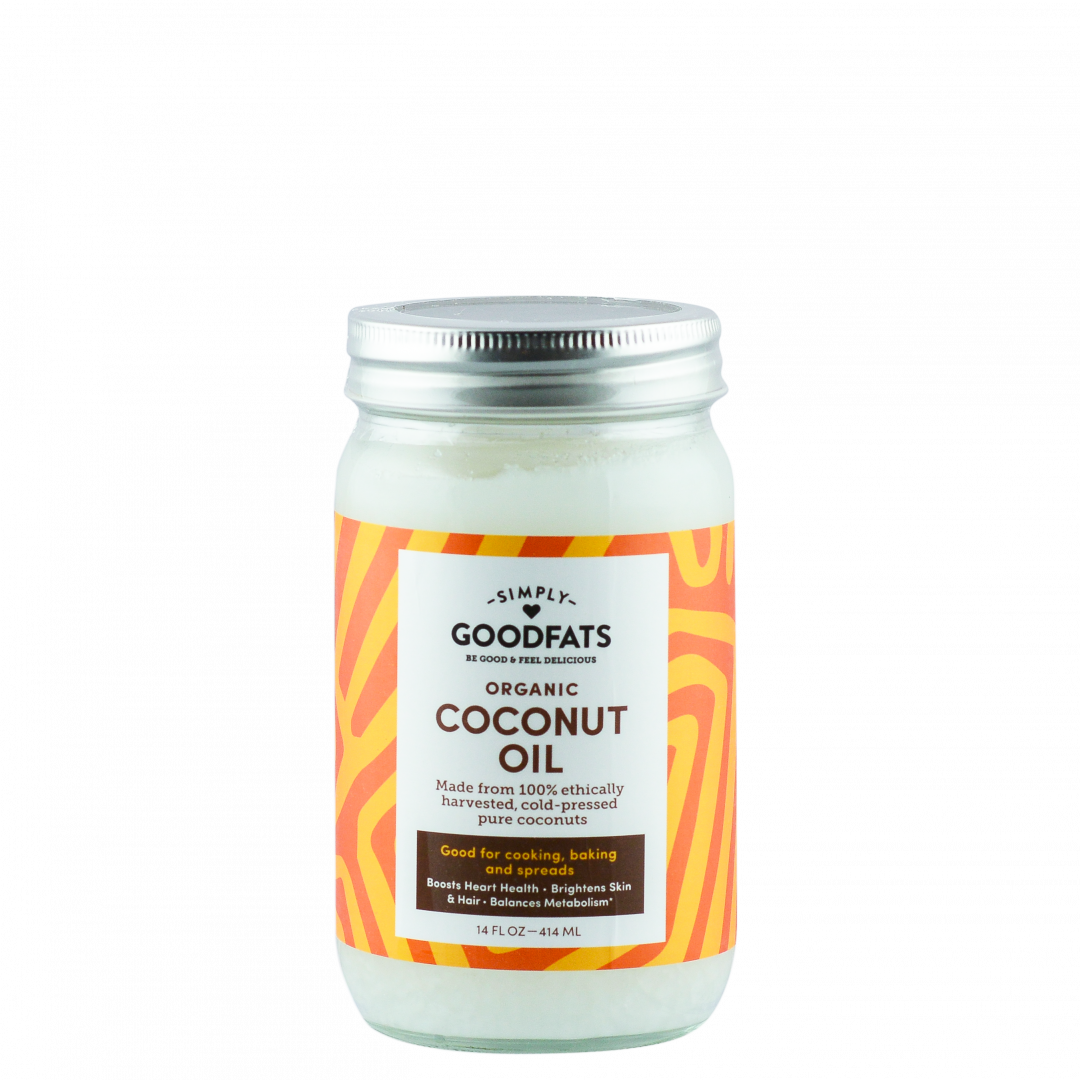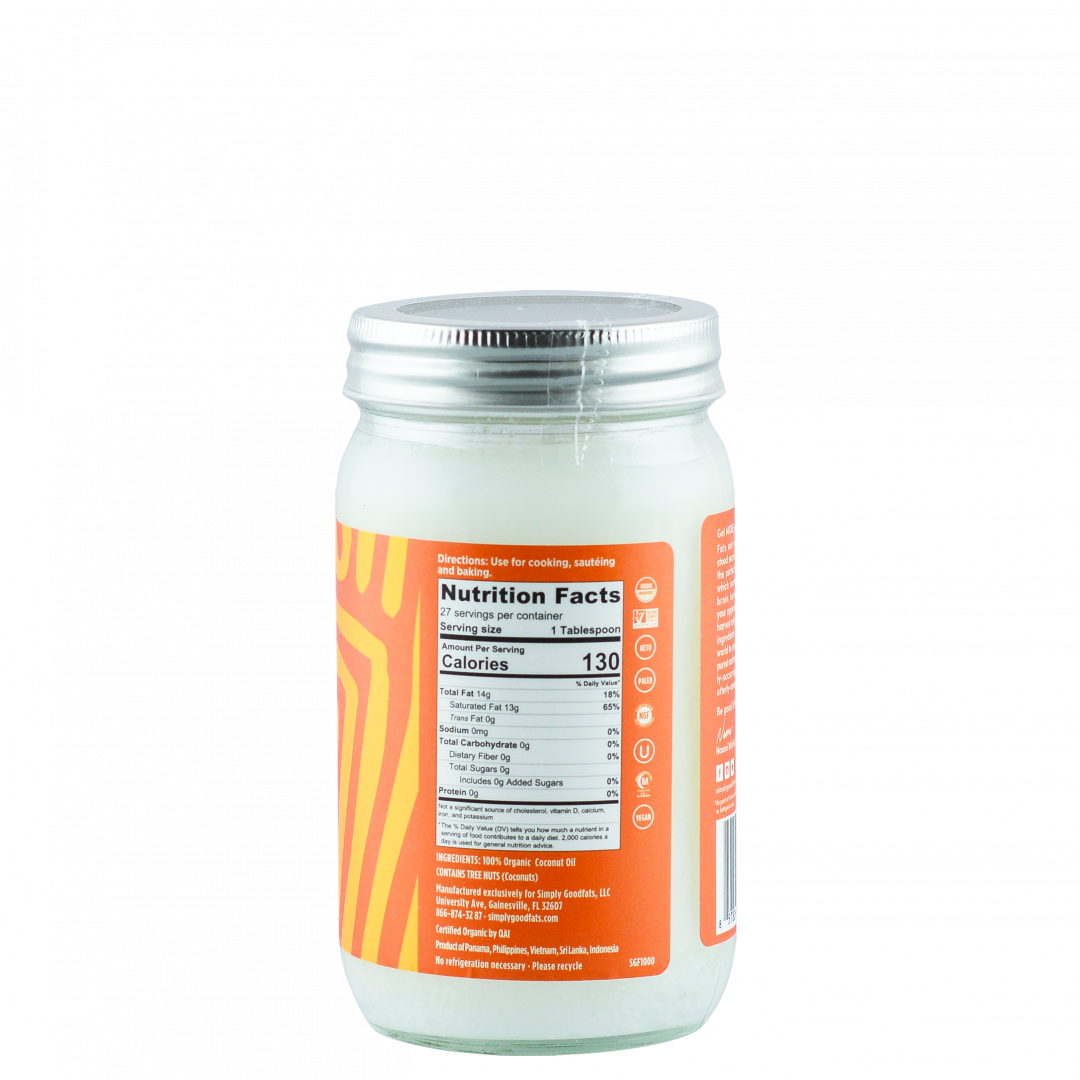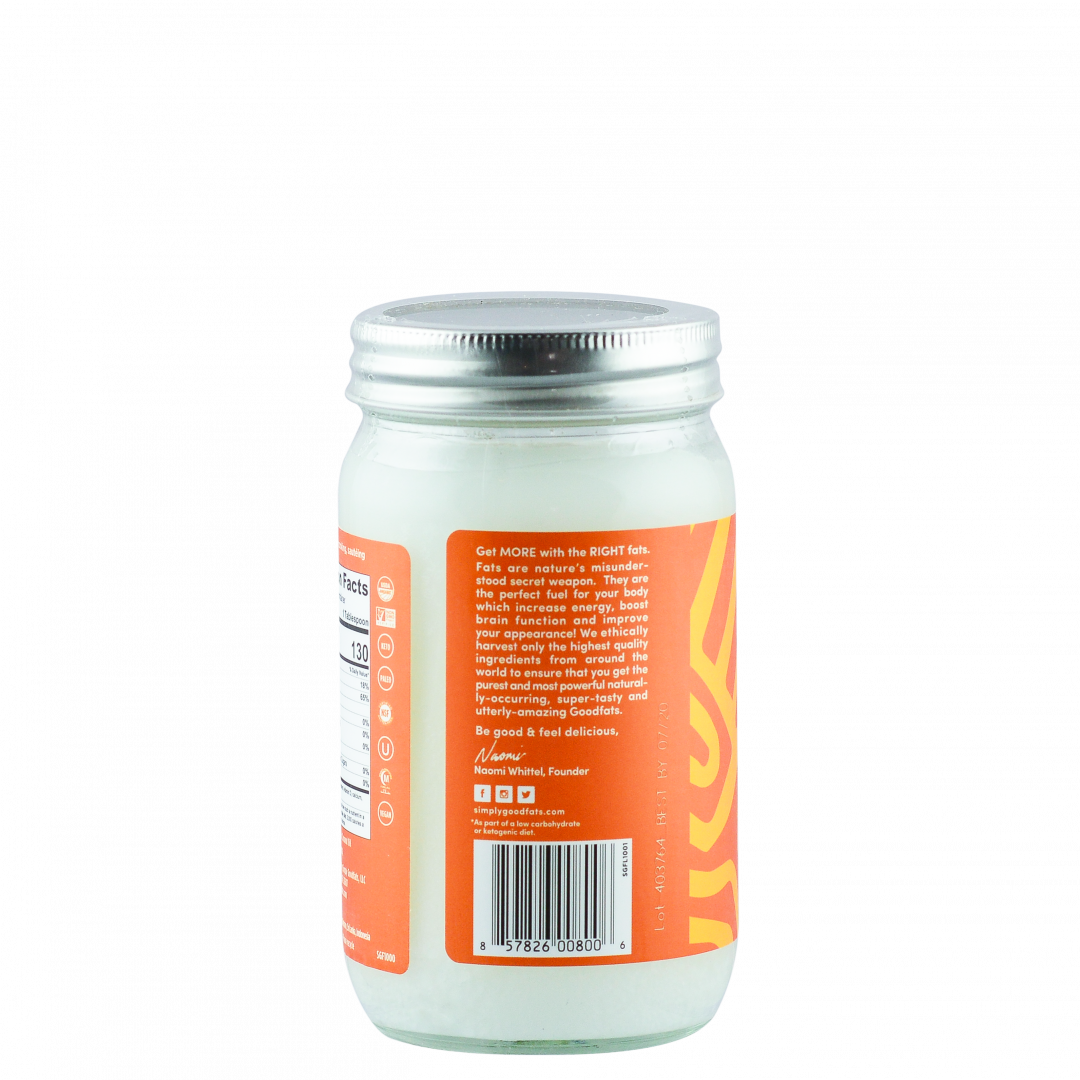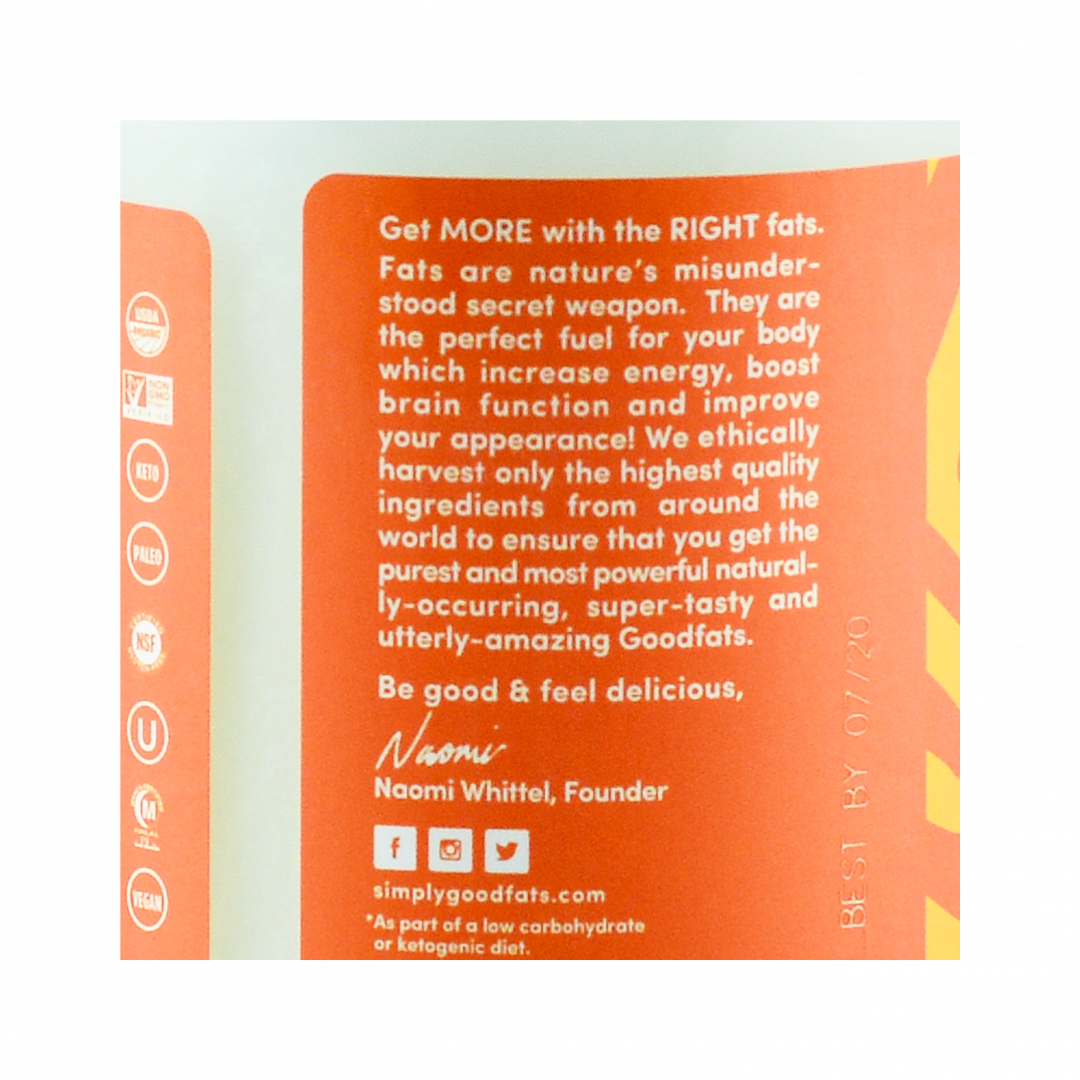 $14.49
There's more to coconut oil than coconuts, like how it's pressed, processed and packaged. Simply GOODFATS Organic Coconut Oil gives you what you want – 100% pure virgin coconut oil from non-GMO coconuts, free from chemicals, mold and toxins. Only fresh, sweet coconuts will do, processed close to the source and purity-tested for ultimate freshness. Our way helps to retain more nutrients including naturally high levels of MCTs and other good fats that support mental clarity, metabolism and radiance. Taste the difference!
Made from 100% certified organic coconuts

Tested for purity

Excellent source of healthy MCTs

Perfect for high-temp cooking and grilling

Multiple health and beauty uses
Free standard shipping on orders of $75.00 or more!*

We'll give you a full refund if you're not 100% satisfied.

Your data is safe with us. We securely encrypt every data.

Certified with McAfee to help our customers feel safe.
COCONUT OIL HEALTH BENEFITS
Get out of the kitchen and explore the infinite uses for coconut oil in health and beauty. Coconut oil for weight loss, whiter teeth, shinier hair and healthier skin are just a few popular uses. Lauric, capric and caprylic acid are fatty acid wonders that get burned as fuel, add moisture and act as natural antifungal and antimicrobial agents.
But if you're using ordinary coconut oil, you may be exposing yourself to mold-related toxins and harsh chemicals used for oil extraction and purification.
THE BEST COCONUT OIL FOR YOU
For optimal benefits, use a clean, pure organic 100% coconut oil like Simply GOODFATS. We did the hard work, taking steps (8 of them to be exact) that ensure the oil you receive is wholesome and safe for your body and health.
Exclusive Coconuts
We have exclusive rights to the sweetest coconuts from a small community of growers. Unadulterated soil and perfect climate account for richness you can taste. We retain full flavor, potency and nourishment by cold-pressing our oil from the nutritious fruit.

Purity Tested
To ensure you get a product that's clean and pure, we use an 8-step testing process that delivers coconut oil nutrition free from mold, mycotoxins, heavy metals and PHAs. You'll only find this standard of excellence here.

Glass Jar
From fruit to jar, we keep it natural. We use recyclable glass jars to preserve the purity of our organic coconut oil and fresh taste.

Guaranteed
Enjoy the benefits of healthy good fats. Taste our commitment to purity, quality and freshness in every delicious spoonful of Simply GOODFATS Organic Coconut Oil. Try it. Love it. Guaranteed.
Nutrition Info
Servings size: 1 tablespoon
Servings per container: 27
| Amount per serving | | %DV* |
| --- | --- | --- |
| Calories | 130 | - |
| Total Fat | 14g | 18% |
| Saturated Fat | 13g | 65% |
| Trans Fat | 0g | - |
| Sodium | 0mg | 0% |
| Total Carbohydrate | 0g | 0% |
| Dietary Fiber | 0g | 0% |
| Total Sugars | 0g | - |
| Includes 0g Added Sugars | - | 0% |
| Protein | 0g | - |
Not a significant source of cholesterol, vitamin D, calcium, iron, and potassium.
* The % Daily Value (DV) tells you how much a nutrient in a serving of food contributes to a daily diet. 2,000 calories a day is used for general nutrition advice.
Use for cooking, sautéing, and baking.
100% organic coconut oil
Contains tree nuts (Coconuts)







recipes using this Simply GOODFATS™ product
No Bake Macaron

No preheating necessary for these chewy 2-bite treats. Enjoy the flavor of the original confection sans the sugar rush. Satiating, healthy fats from coconut and butter, and filling fiber from nuts and seeds offer a sweet treat to complete any meal.

View Recipe

Almond Butter Fudge

Sugar and spice and everything nice… except when you crave a savory fat bomb. Break off a piece of this healthy fudge when feel like snacking or after a meal when you need something more. It's as pure as the organic coconut oil it's made with.

View Recipe

Tapenade

Gather your friends for an afternoon of catching-up over this delicious olive oil tapenade. Spread the love of olives and herbs over a toasted slice of keto bread for an appetizer that rivals that of any restaurant.

View Recipe
Our coconuts are different from the "other" ones.
Learn more about the story of our coconuts.
Our Good Way
"Unlimited benefits!"

"I've been looking for a true organic, extra virgin, cold pressed, unrefined coconut oil at an affordable price. I can taste the coconut flavor and smell the scent very well which is a true sign that it hasn't been over processed or refined."

Park Ridge, NJ
Rating & Reviews
Post a Review