Simply GOODFATS™ Organic MCT Oil
16 oz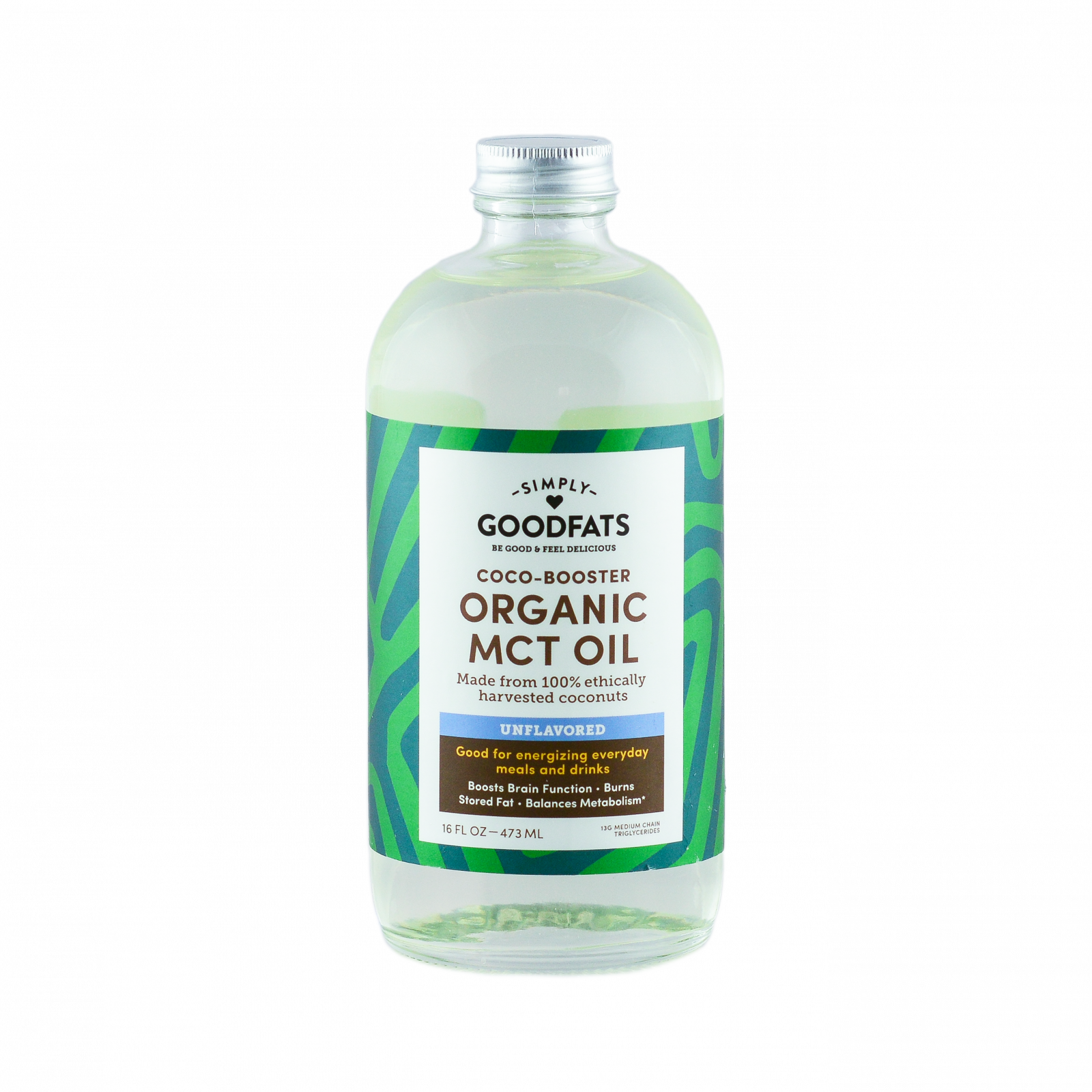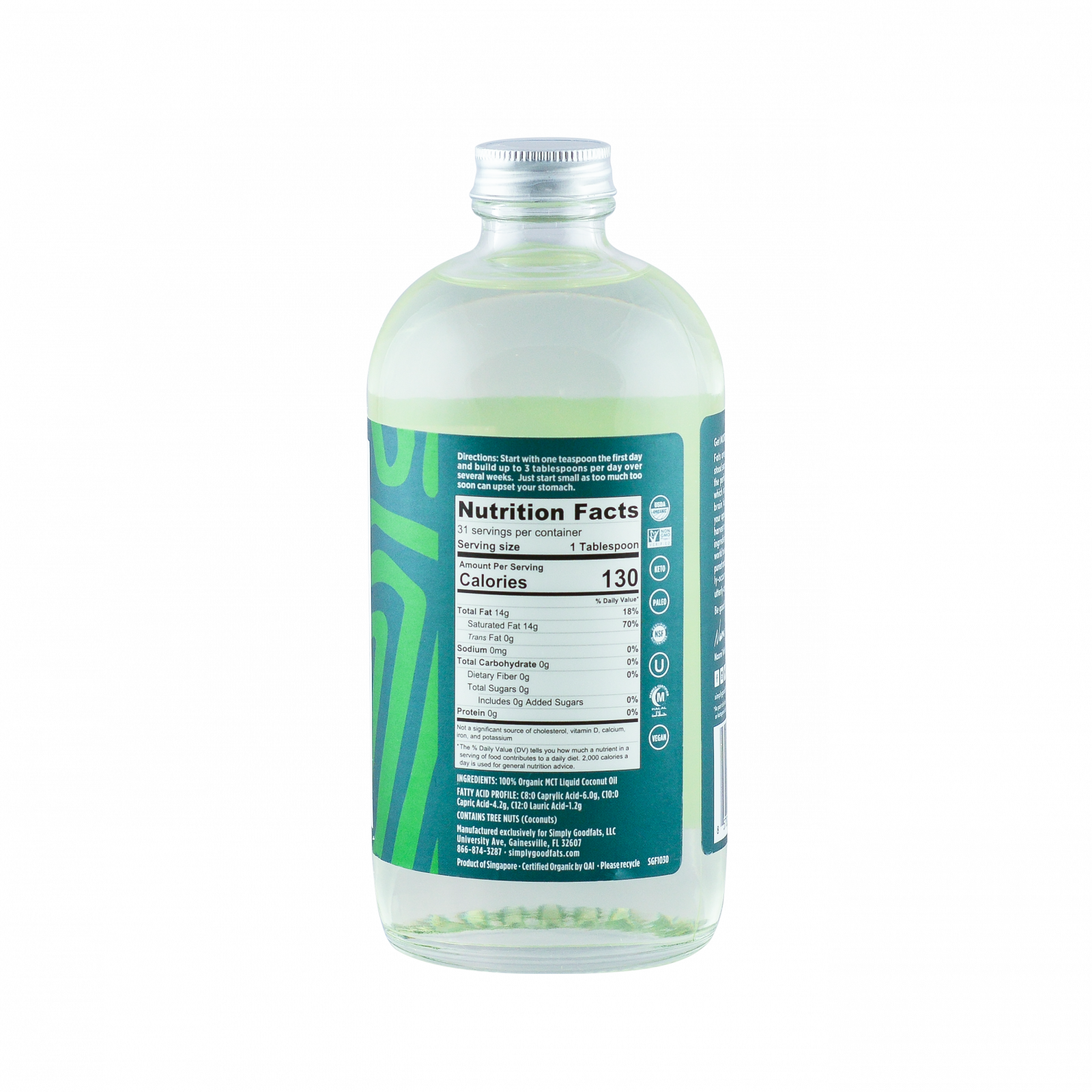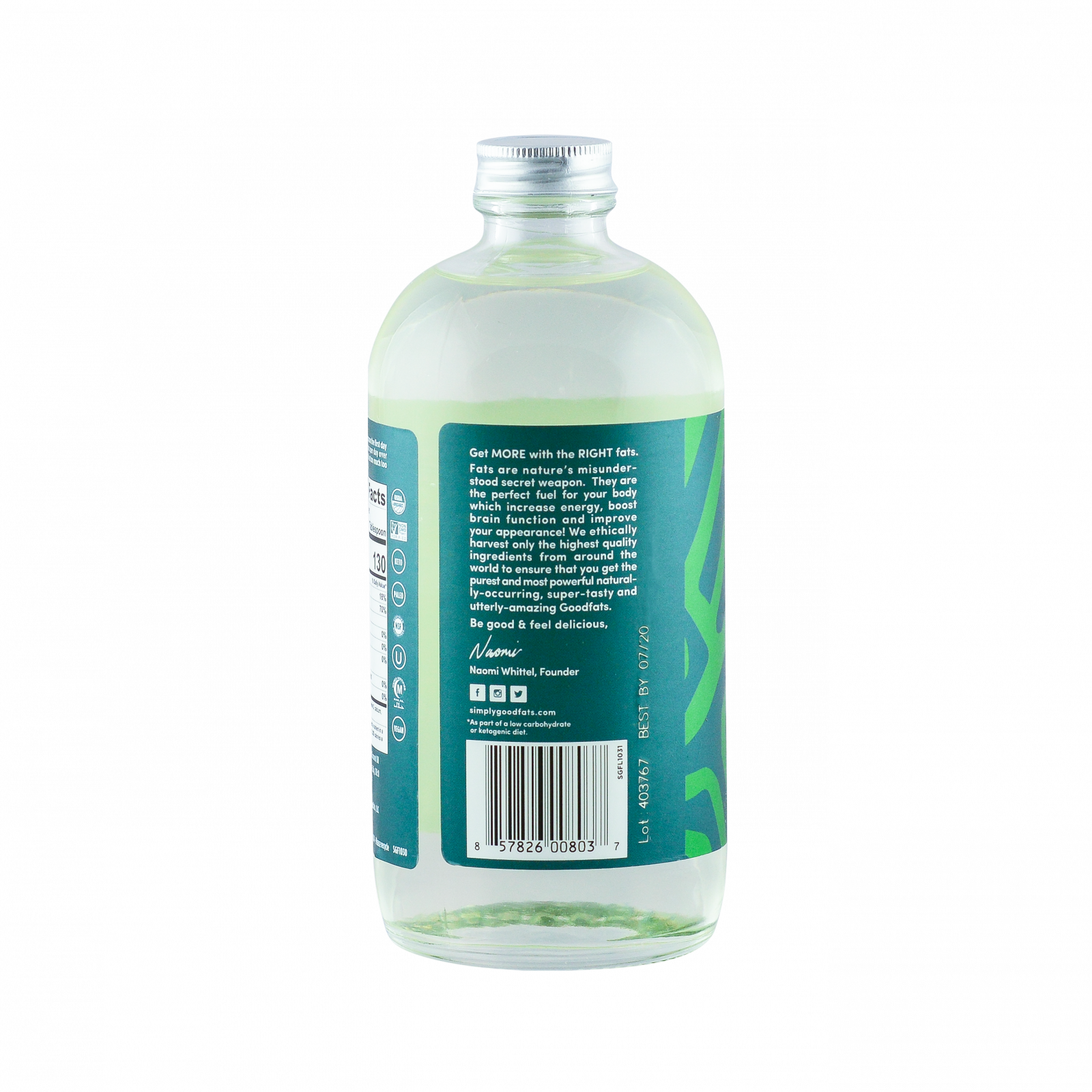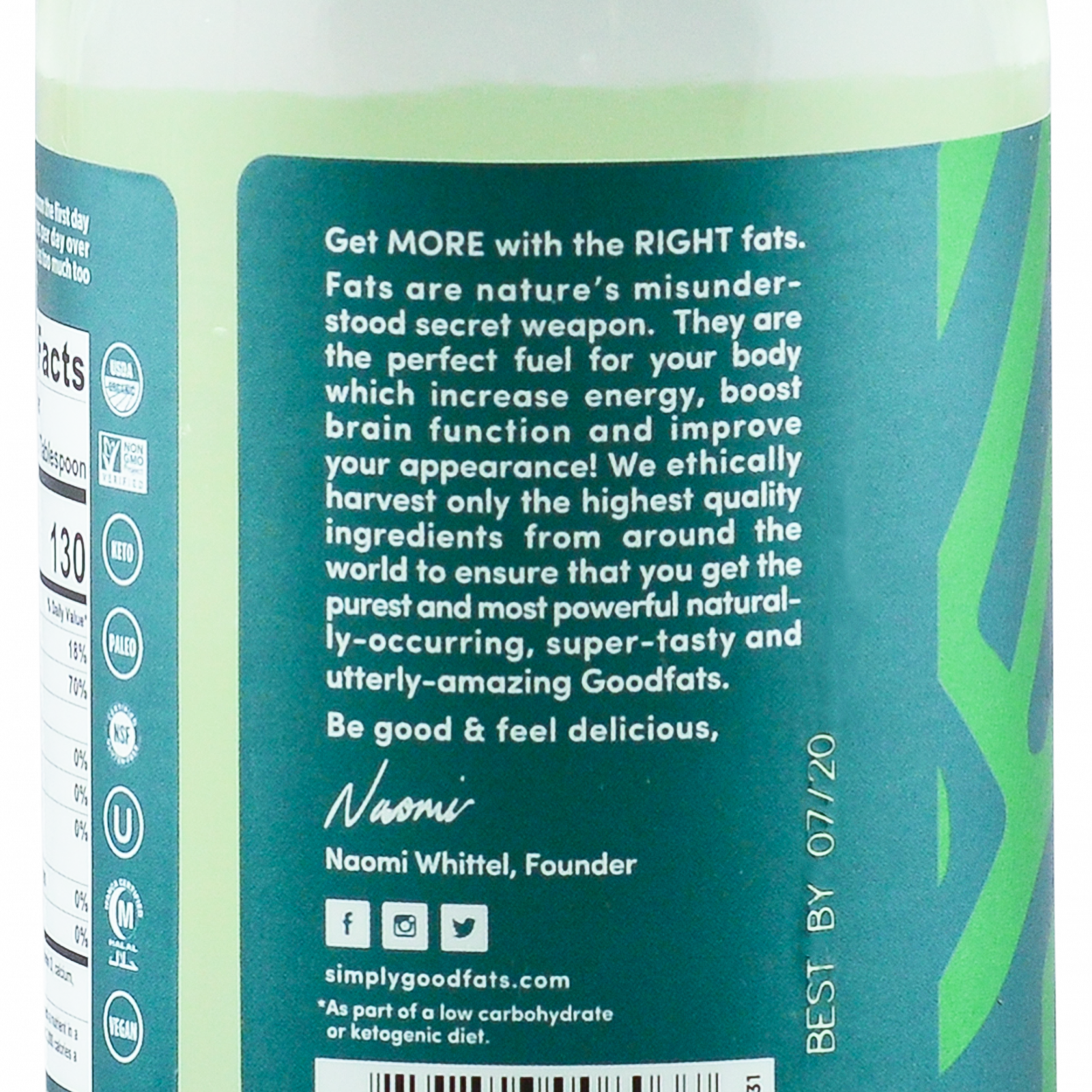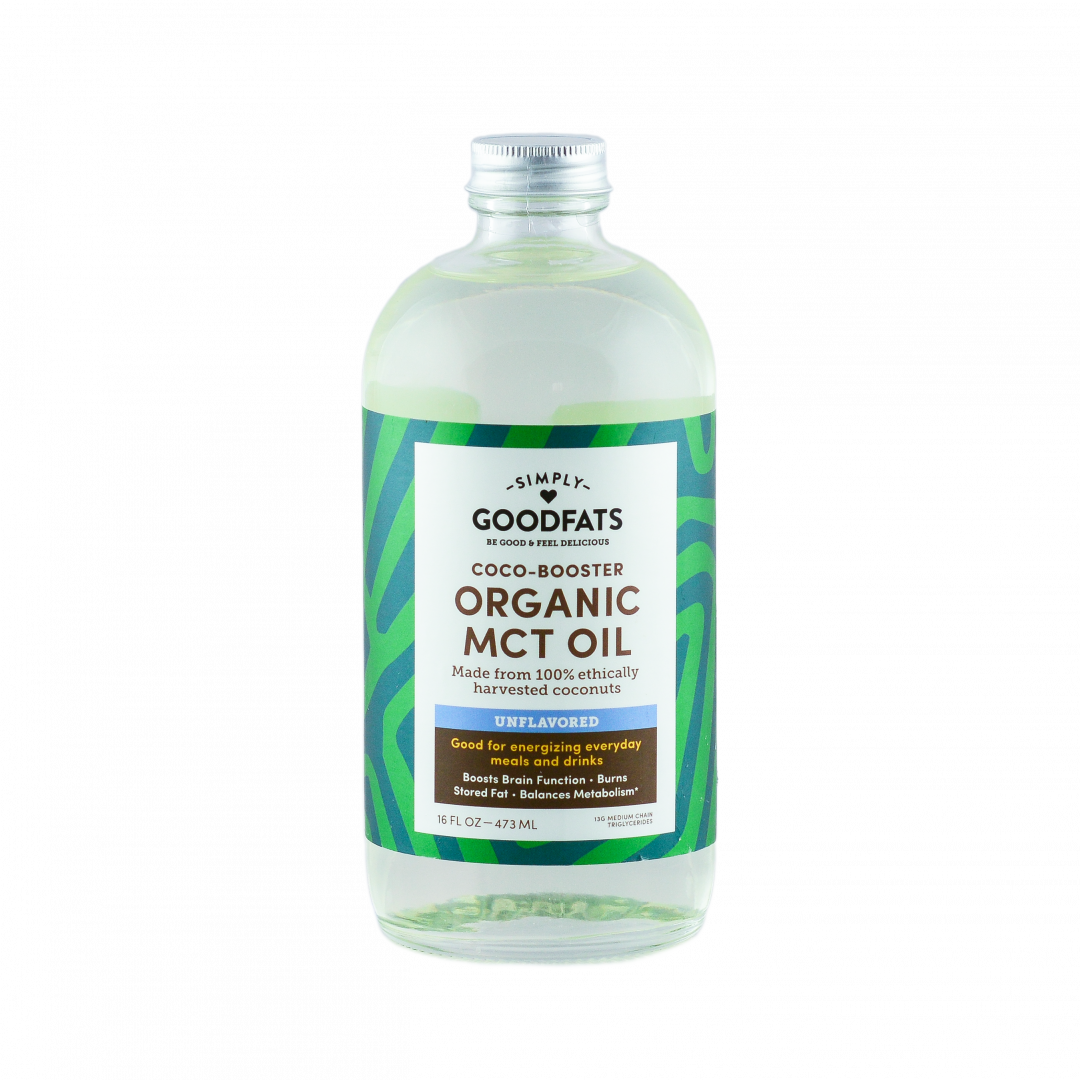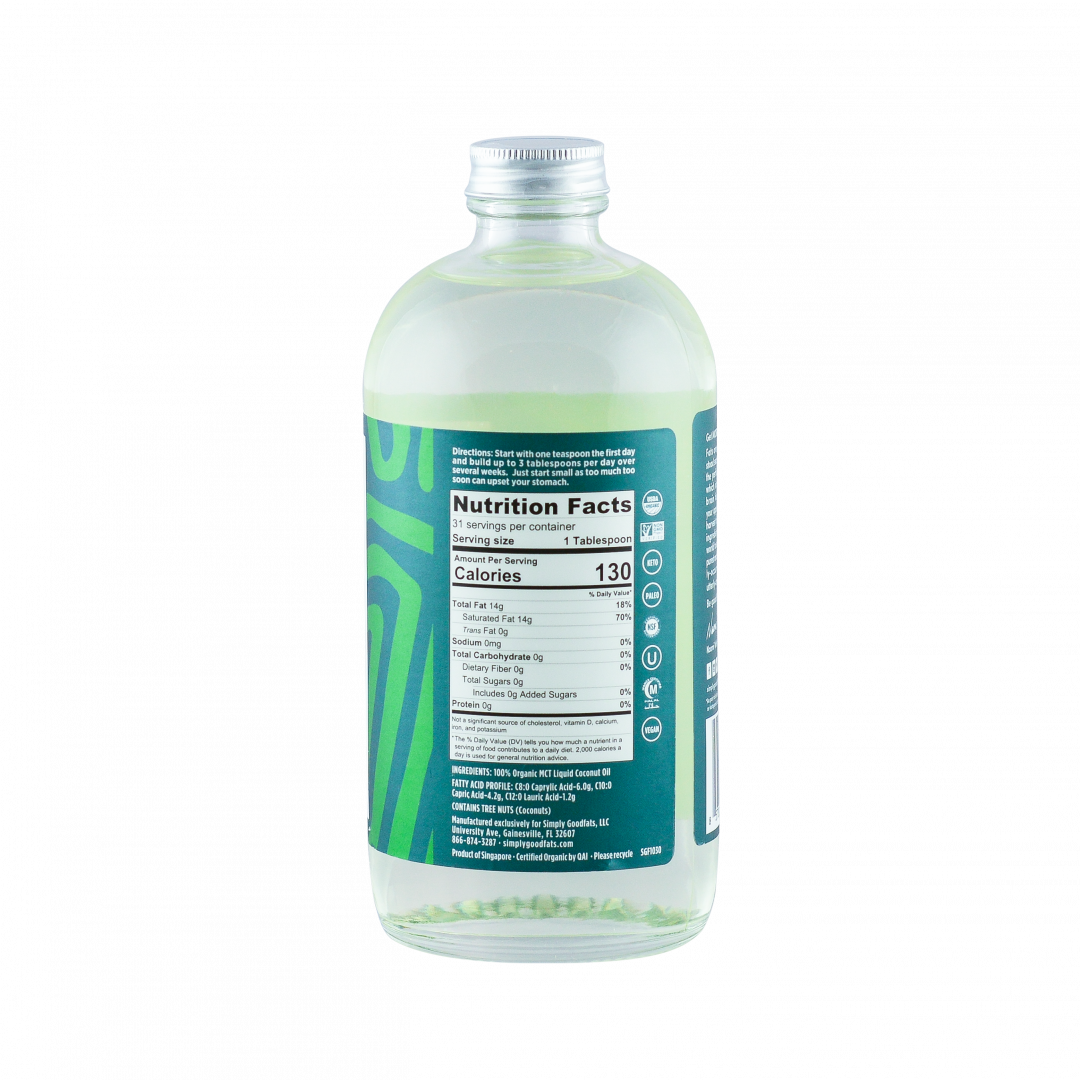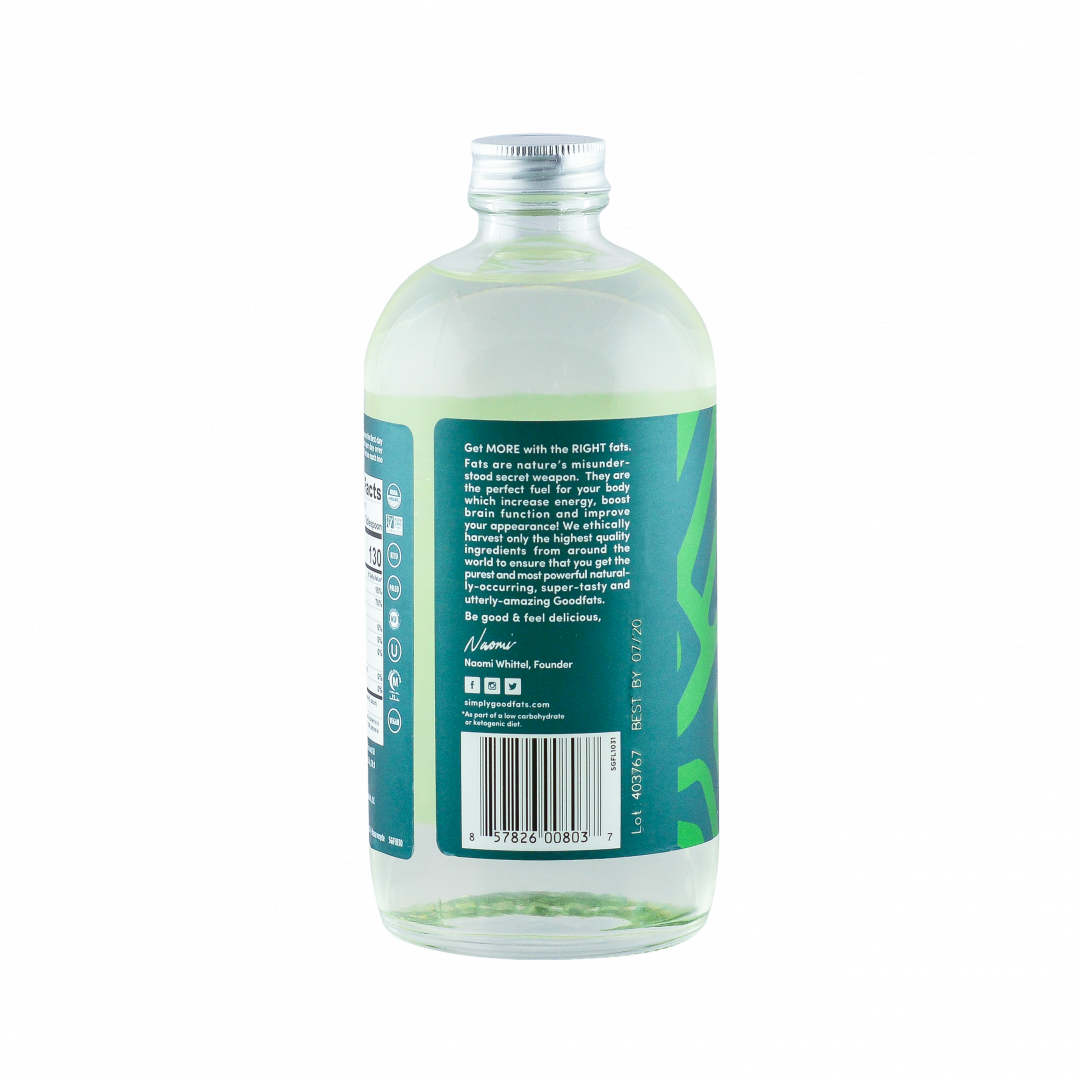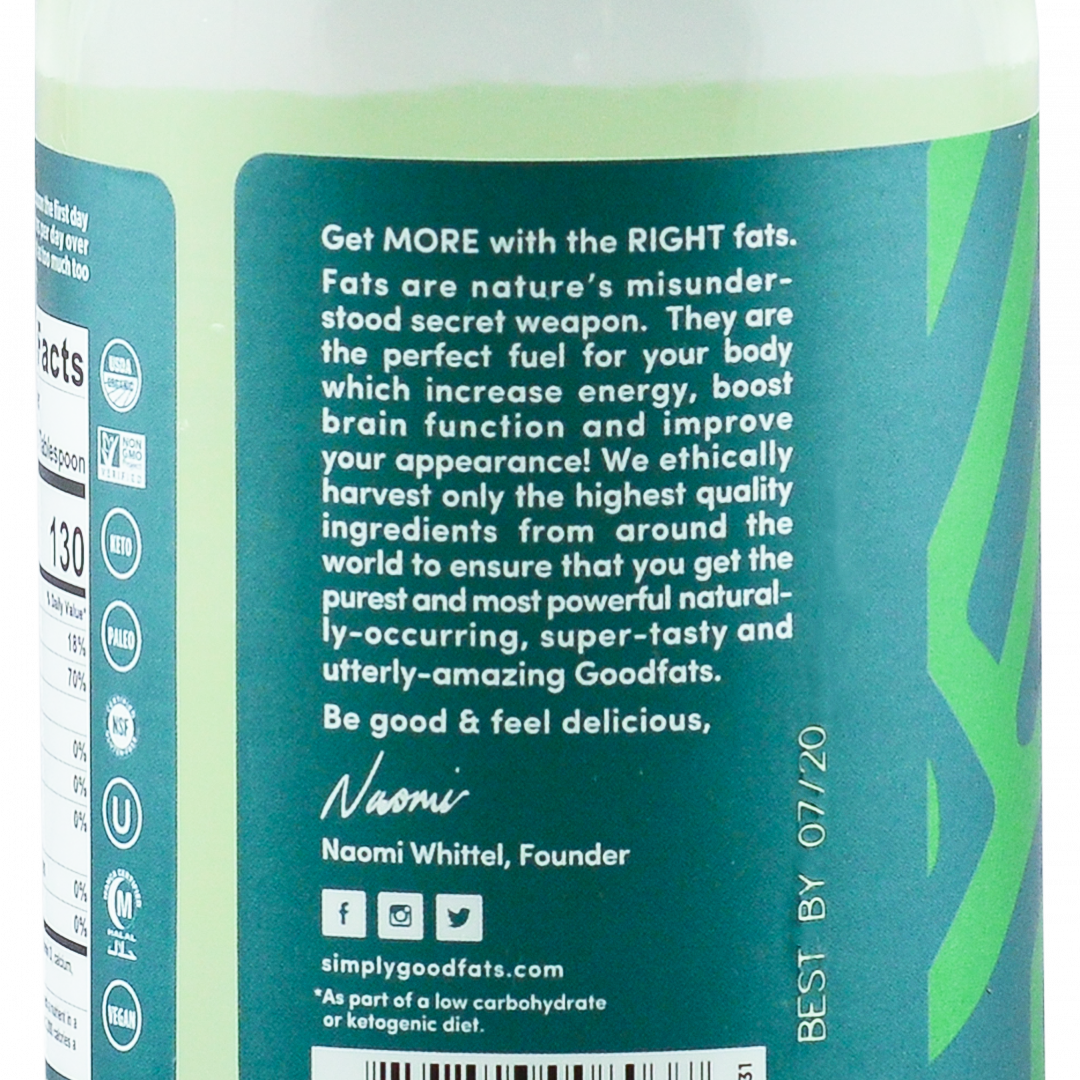 $36.99
Simply GOODFATS Organic MCT Oil is the good fat your brain and body love. Medium-chain fats provide quick energy to lift brain fog, burn stored fat, fire-up metabolism and satisfy cravings. Derived from fresh, organic coconuts and processed close to the source to preserve freshness, this nourishing oil is purified using natural enzymes, not chemical solvents. Pour, blend or drizzle on anything – it's all good.
Enhances mental focus

Boosts fat burn and metabolism

Made from organic coconuts tested for purity

Enzymatic, solvent-free processing

Glass bottle preserves quality
Free standard shipping on orders of $75.00 or more!*

We'll give you a full refund if you're not 100% satisfied.

Your data is safe with us. We securely encrypt every data.

Certified with McAfee to help our customers feel safe.
Ultimate Nourishment for Brain & Body
Simply GOODFATS delivers the best MCT oil. Medium-chain fats provide quick and powerful fuel that sparks energy all day. Experience keto-burn as your body works efficiently to fire-up metabolism and convert stored fat into fuel.
This Organic MCT Oil doesn't stop there. Our select type of good fat—derived exclusively from Simply GOODFATS coconuts—feeds cells, lifts brain fog, elevates mood and satisfies cravings.
Make Simply GOODFATS Organic MCT Oil your daily superfood power boost. Pour, spoon or drizzle on everything you eat or drink. It's all good.
Simply the Best, from Source to Bottle
You know why processed foods are bad. Don't settle for processed MCT oils that are chemically extracted from coconuts grown in poor soil and treated with extreme temperatures.
Exclusive Coconuts
We guarantee a better way. Simply GOODFATS starts with exclusive rights to the sweetest coconuts from a small community of growers. Unadulterated soil and perfect climate account for richness you can taste. We retain full flavor, potency and nutrition by cold-pressing our oil from the nutritious fruit.

Spark of Life
Then, we introduce the 'Spark of Life': Our patent-pending method worthy of its name. Natural enzymes are used to gently separate our MCTs from the coconut oil, and deliver purity and potency that's greater than processed MCT oils.

Purity Tested
Our best MCT oil is made better through an 8-step testing process that delivers an MCT oil free from mold, mycotoxins, heavy metals and PHAs. A glass bottle keeps it pure. You'll only find this standard of excellence here.

Guaranteed
Taste our commitment to purity, quality and freshness in every delicious drop of Simply GOODFATS Organic MCT Oil. Try it. Love it. Guaranteed.
Nutrition Info
Servings size: 1 tablespoon
Servings per container: 31
| Amount per serving | | %DV* |
| --- | --- | --- |
| Calories | 130 | - |
| Total Fat | 14g | 18% |
| Saturated Fat | 14g | 70% |
| Trans Fat | 0g | - |
| Sodium | 0mg | 0% |
| Total Carbohydrate | 0g | 0% |
| Dietary Fiber | 0g | 0% |
| Total Sugars | 0g | - |
| Includes 0g Added Sugars | - | 0% |
| Protein | 0g | 0% |
Not a significant source of cholesterol, vitamin D, calcium, iron, and potassium.
* The % Daily Value (DV) tells you how much a nutrient in a serving of food contributes to a daily diet. 2,000 calories a day is used for general nutrition advice.
Mix, shake or drizzle onto food starting with one teaspoon on the first day and building to 3 tablespoons per day over several weeks. Store in a cool, dry place, away from light. No refrigeration necessary.
100% organic MCT liquid coconut oil
Contains tree nut (Coconuts)







recipes using this Simply GOODFATS™ product
Poke Avocado Cups

These fancy-looking avocado cups make a colorful and filling snack, appetizer or light meal. Each cup contains more good fats, vitamins and minerals that can fit inside. For best flavor, use the freshest, best quality ahi tuna you can find.

View Recipe

Chocolate Chip Peanut Butter Protein Bites Recipe

An iconic cookie flavor has been transformed into a gluten-free, protein and fat-packed treat that satisfies hunger, cravings and energizes your body with coconut MCTs. You'll love the soft and chewy texture with just the right amount of sweetness.

View Recipe

Endive Boats with Pear and Garlic Thyme Vinaigrette

Sweet and savory unite in this lovely, crisp appetizer that delivers fiber, antioxidants and healthy fats. Use the freshest ingredients including unadulterated MCT oil (like ours) for best taste. It's great for protein cycling and low-protein days.

View Recipe
Our coconuts are different from the "other" ones.
Learn more about the story of our coconuts.
Our Good Way
"Has really impacted my skin health…"

"One of the many health issues I have dealt with over the years is that I have a lot of inflammation. Since incorporating this MCT into my daily routine, I've noticed a big reduction in my symptoms."

St Louis, MO

"Feeling alive again…"

"After about three weeks I would say overall, I am starting to feel more energized and engaged. And believe me, I have tried about every version of caffeine there is over the years, so I am an expert on how caffeine affects my energy levels."

Miami Shores, FL

"So far so good!"

"My husband and I are converting over to a keto diet and this product is one of the first options we are trying. I was expecting something harsh (for whatever reason-I guess a fear of the unknown) but this was unexpectedly mild and easy to adjust to."

Warren, MI
Rating & Reviews
Post a Review